At Tac Ops, our New Jersey indoor laser tag arenas and facilities are designed to be a fully immersive experience. Our combat simulations and roleplay-style games are all intricately plotted to make your experience fun and unforgettable!
Traditional Laser Tag vs. Tactical Laser Tag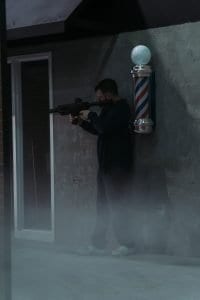 When you think of laser tag the traditional style of play most likely comes to mind. I'm sure you can picture in your head the rooms with blacklights, and neon gear, with the main goal of trying to get the most hits. 
Tactical laser tag however is much different than the traditional play typically found in bowling alleys and other types of party centers. When it comes to tactical laser tag you'll want to forget everything you thought you knew about laser tag. 
So what's the difference? Tactical laser tag is mission-based and requires strategic thinking bringing a different approach to the traditional laser tag experience everyone is familiar with. Tactical laser tag involves realistic situations, combat simulations, and roleplay-style games.
The Tac Ops Difference
At Tac Ops, we are proud to offer a premier laser tag experience in New Jersey with locations in Fairfield and Florham Park. Below you'll find just a few reasons why Tac Ops is considered a top-tier New Jersey tactical laser tag arena.
The Most Advanced Laser Tag in the World
At Tac Ops all of our laser tag equipment is state of the art, so you can be sure that every time you visit our arena, you will be playing with top-of-the-line equipment. In addition, thanks to its realistic approach to combat, many law enforcement officials use our tactical laser tag facilities for training purposes.
Your Favorite Video Games Brought to Life
Do you enjoy playing first-person shooter games? Well, our immersive New Jersey laser tag arenas and revolutionary equipment are specifically designed for players to feel like they're spending time inside their favorite video games.
Fun for Everyone
With adjustable difficulty levels that can be adjusted based on your experience and abilities, Tac Ops Laser Tag can be enjoyed by anyone aged 8 and up! So even if it is your first time playing tactical laser tag you can be sure you'll have a fun and successful game.
Our Tactical Laser Tag Gameplay Options
At Tac Ops, we have a variety of gameplay options and missions to choose from which include:
In this gameplay option, you'll take down your enemy's team. Be the last team standing and come out the winner.
In this gameplay option, you'll want to eliminate all enemies and be the last one left to be crowned the winner.
In this gameplay option, you'll work with your team to capture the enemy's flag while also defending your own. Capture the enemy flag and defend yours successfully to be the winner. 
In this gameplay option, you'll be given objectives to complete in order to beat out your enemy. Complete the objectives and become the winner.
In this gameplay option, you'll be given a VIP. Your job is to protect your VIP at all costs. If you are successful you will be the winner.
Additional Laser Tag Gameplay Options 
At Tac Ops, your laser tag experience is not just limited to the above missions. In fact, some other games we offer include kill streaks, sniper only, and infection or survival.
Ready to Give Tactical Laser Tag a Try? 
Tac Ops is bringing laser tag into the 21st century. Whether you're looking for a fun family event, an unforgettable birthday party experience, or even an advanced training simulation, Tac Ops is the place for you. Book your reservation today at either our Fairfield or Florham Park locations!
"*" indicates required fields