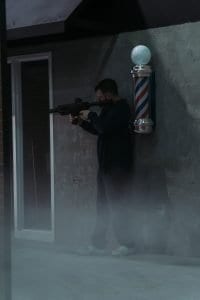 While at Tac Ops, you'll feel like you're living out your gaming fantasies. All of our laser tag equipment is state of the art, so you can be sure that every time you visit our arena, you will be playing with top-of-the-line tools.
You'll find yourself surprised at how realistic the situations feel. Our indoor laser tag arenas and facilities are designed to be a fully immersive experience. Our combat simulations and roleplay style games are all intricately plotted to make your experience fun and unforgettable!
The difficulty levels can be adjusted based on your experience and abilities, so even if this is your first time playing tactical laser tag, you can be sure you'll have a fun and successful game.
Tac Ops is bringing laser tag into the 21st century. Whether you're looking for a fun family event or an advanced training simulation, Tac Ops is the place for you. Book your reservation today!
Forget Everything You Thought You Knew About Laser Tag! Tactical laser tag involves realistic situations, combat simulations, and roleplay style games.
The Most Advanced Laser Tag in the World! Thanks to its realistic approach to combat, many law enforcement officials use tactical laser tag for training purposes.
Your Favorite Video Games Brought to Life! Our immersive arenas and revolutionary equipment are specifically designed for players to feel like they're spending time inside their favorite video games.
Fun for Everyone! With adjustable difficulty levels, Tac Ops Laser Tag can be enjoyed by anyone aged 7 and up!